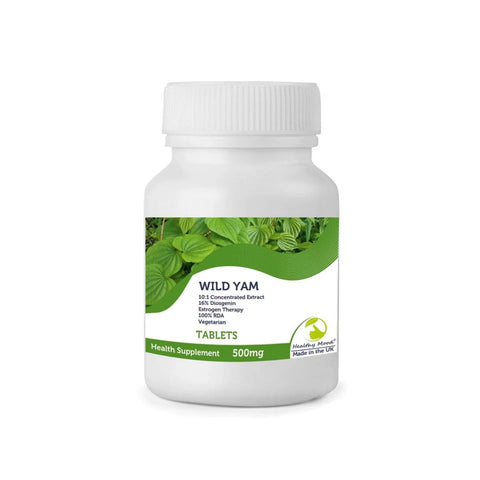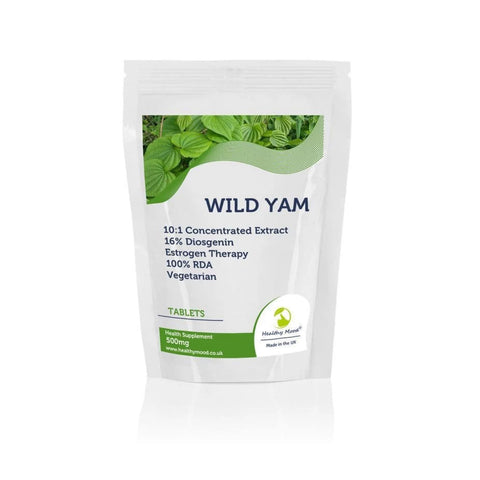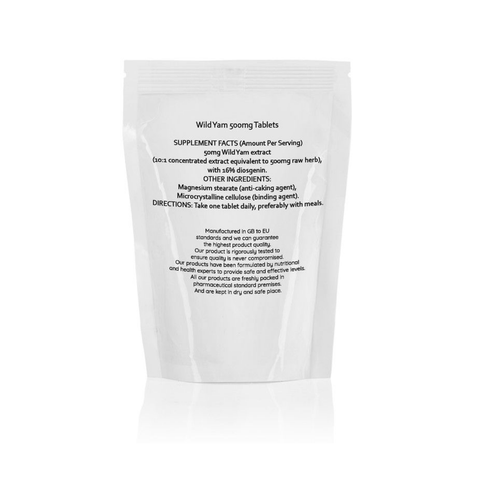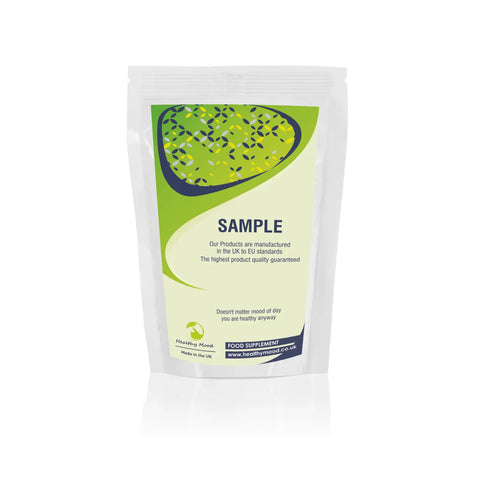 Wild Yam 500mg Tablets
Wild Yam 500mg Tablets
Contains diosgenin, associated with estrogen-like properties
Source of diosgenin
Traditionally considered for managing symptoms of PMS
Historically used for addressing vaginal dryness in older women
Wild yam is a plant known to contain diosgenin, a compound often associated with estrogen-like properties. The root and bulb of the plant are used to extract diosgenin. While historically promoted as a natural alternative to estrogen therapy, it has been traditionally linked to managing symptoms such as vaginal dryness in older women, PMS, menstrual discomfort, weak bones, and potentially increasing energy and sexual drive in men and women.
SUPPLEMENT FACTS (Amount Per Serving)
50mg Wild Yam extract (10:1 concentrated extract equivalent to 500mg raw herb), with 16% diosgenin.
OTHER INGREDIENTS: Magnesium stearate (anti-caking agent), Microcrystalline cellulose (binding agent).
DIRECTIONS: Take one tablet daily, preferably with meals.
NOTE: Do not exceed the recommended daily intake. Avoid if you have an allergy to any of the ingredients listed above. This product should not be used as a substitute for a varied diet. Store in a cool, dry place, and keep out of sight and reach of children.
Do not take these tablets if you are under 18 years of age. (V) Suitable for Vegans & Vegetarians.
OTHER NAME(S): American Yam, Atlantic Yam, Barbasco, China Root, Chinese Yam, Colic Root, Devil's Bones, DHEA Naturelle, Dioscorea, Dioscoreae, Dioscorea alata, Dioscorea batatas, Dioscorea composita, Dioscorea floribunda, Dioscorea hirticaulis, Dioscorea japonica, Dioscorea macrostachya, Dioscorea mexicana, Dioscorea opposita, Dioscorea tepinapensis, Dioscorea villosa, Dioscorée, Igname Sauvage, Igname Velue, Mexican Yam, Mexican Wild Yam, Ñame Silvestre, Natural DHEA, Phytoestrogen, Phyto-strogène, Rheumatism Root, Rhizoma Dioscorae, Rhizoma Dioscoreae, Shan Yao, Wild Mexican Yam, Yam, Yuma
Ingredients
Direction and Storage